Now that the East Kingdom has access to the suite of Google Apps, your branch, office, or group can make use of Google Calendar. Google Calendar has already been a popular option for maintaining an easy to use calendar of local events, meetings, practices, and workshops. Now it can be done so in an official capacity and with proper ownership and management by the appropriate officers.
First, Log in to https://calendar.google.com with your East Kingdom member account.
---
Create a New Calendar and name it appropriately. Add a description. In this example I am creating a calendar for a regular practice in my barony. The same steps can be used to create an official calendar for your local group, to create a shared calendar for your kingdom office, or for any other official purpose.

---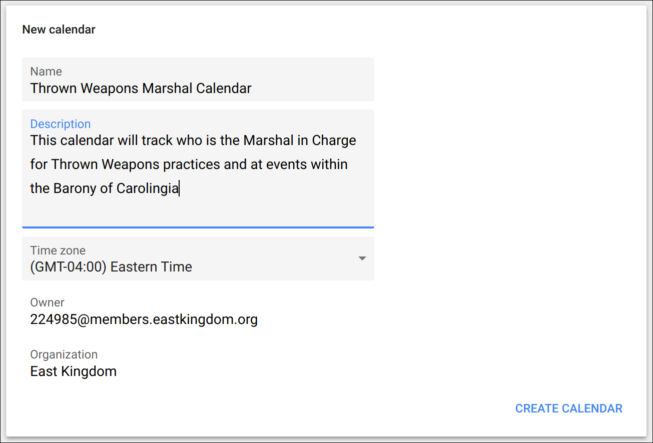 ---
You'll now be brought to the settings page. Under Access Permissions, choose whether or not to make the calendar public. Remember that if you want the general populace of your area to be able to see and subscribe to the calendar, it will need to be available to the public. In this same settings box, click on "Get Sharable Link" to get a sharing link. Copy down and save this link – you will need it later!
---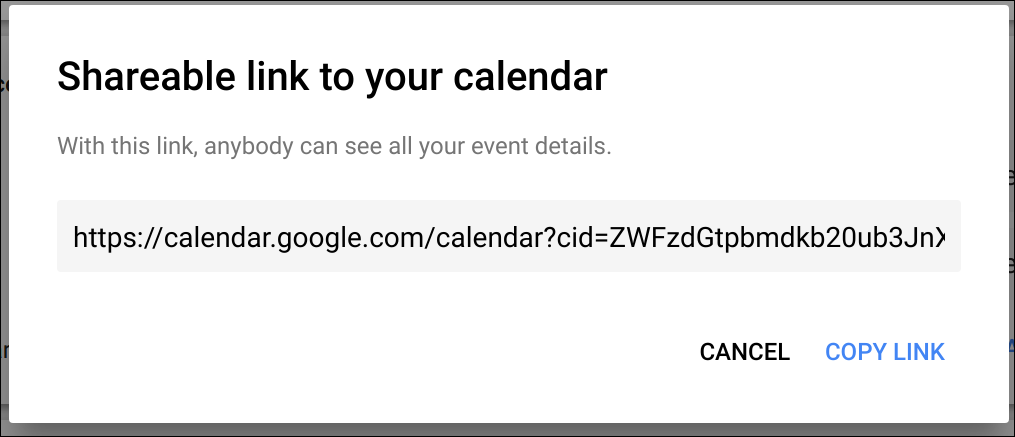 ---
The calendar is currently owned by you, not an office. These next steps will transfer ownership to one or more offices.
Scroll down the settings page to the "Share with specific people" section.
In this section, add the office(s) that should have ownership of the calendar. For example, add webminister@[group].eastkingdom.org and seneschal@[group].eastkingdom.org. Remember that if this is going to be an official calendar for your group, it MUST have the seneschal as an owner. The seneschal is responsible for maintaining or supervising the official calendar of events for a group.
Set the permissions for these offices to 'Make Changes and manage sharing'. If you like, you can add other offices with 'Make changes to events' which will let them manage the calendar, but not add or remove admins.
Scroll down further to the 'Integrate Calendar' area and copy down the ical link to the calendar, just in case.
---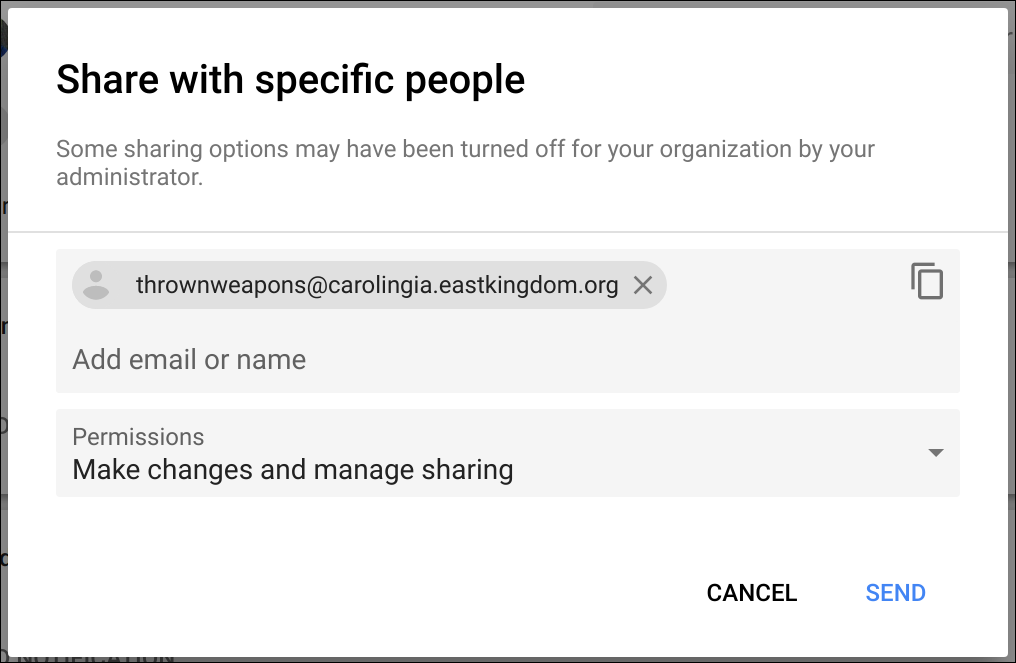 ---
At this point the calendar is still owned by your personal account, as well as by the office(s) added before. You will need to work with someone who holds one of those offices for this last step. The office holder should log in to Google Calendar using their East Kingdom member account, and use the sharable link you copied down earlier to add the new calendar to their display. at this point they can edit the settings for this calendar, and remove your member account from the list of owners, leaving a calendar that is only owned by the office(s) added previously.
You can then use the same steps as the other officer, using the same sharable link, to add the calendar back to your display. You'll know this has happened correctly when you see the calendar listed under "Other Calendars" instead of "My Calendars".
(Oh, and if you forgot to save the sharable link, use the iCal link you should have also saved, and under the Add Calendar by URL option add it in that way.)
If you set the calendar to public, anyone can use the sharable link to add the calendar to their Google account. You can also use the embed link to add the calendar to any website.
---